NOT FOR PUBLICATION, FOR CLASS CONSUMPTION ONLY, THIS POOP WILL CHANGE IN AN HOUR: How "Loss of Value" Insurance is Changing College Football
In 2012, if you polled Pac-12 cornerbacks for the scariest name in all of college football, the name that kept them up late on Friday nights reviewing coverage schemes and later on Saturdays ruing the wrong end of a SportsCenter highlight, the answer would be near unanimous: Marqise Lee.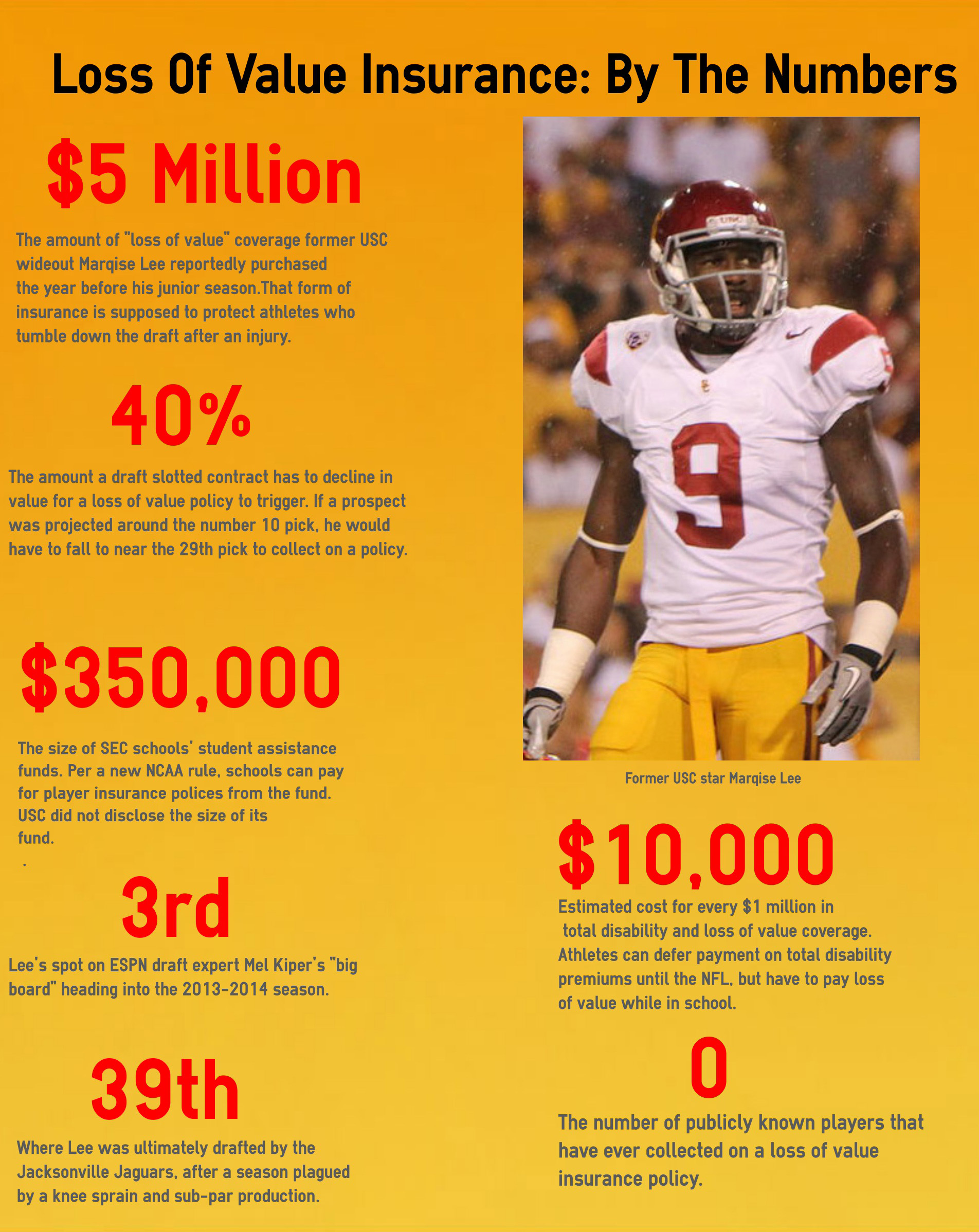 The sophomore Trojan wide receiver was an absolute terror that year, winning just about every award he could (Biletnikoff, All-American, Pac-12 Offensive Player of the Year) while tantalizing NFL scouts with his uncanny hands, instinctive route-running, and blazing in-game speed.
In 2013, if you polled Pac-12 cornerbacks about Marqise Lee, the question "what happened?" may have surfaced more than once. What had happened was a sprained MCL—a knee injury—that Lee suffered early in the season. Lee's draft stock plummeted and he ultimately fell to the second round of the draft. Ostensibly, Lee had lost out on millions.
But Marqise Lee had thought ahead. Like a growing number of college players, Lee had taken out a "loss of value" insurance policy to protect him from an injury-induced tumble down the big board.
Lee now stands to be the first publicly known player to ever collect on a loss of value policy, and could collect big--he reportedly has as much as $5 million in coverage. Players, agents, and coaches are riveted to the fate of Lee's claim.
In part one of a multi-part series, Annenberg Radio News reporter Matt Heller explores how loss of value insurance is rapidly changing college football, from recruiting to the draft.